Giuseppe De Nicolao
Short Biography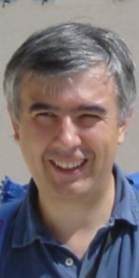 Giuseppe De Nicolao, was born in Padova, Italy, on April 24, 1962. He is Full Professor at the University of Pavia, Italy, Department of Computer and System Science, since 2000. He graduated (cum laude) from the Polytechnic of Milano in 1986. His thesis won the annual Quazza Award for the best thesis in Automatic Control defended at the Politecnico di Milano.
From 1987 to 1988 he was with the Biomathematics and Biostatistics Unit of the Institute of Pharmacological Researches "Mario Negri", Milano. In 1988 he was appointed a position as a researcher at the Center for System Theory in Milano of the Italian National Research Council. In 1991, he held a visiting fellowship at the Department of Systems Engineering of the Australian National University, Canberra (Australia). In 1992 he joined the Department of Computer and System Science of the University of Pavia as Associate Professor (Full Professor since 2000) of Model Identification and Data Analysis.
He has been contributing to Control Theory and System Identification mostly in the areas of Filtering, Periodic Systems, Model Predictive Control, Bayesian Learning, Modelling Identification and Control of Biomedical Systems, Statistical Process Control applied to Semiconductor Manufacturing. On these subjects he has published more than 100 journal papers. He is a Senior Member of the IEEE since 1997. From 1999 to 2001 he served the editorial board of the IEEE Transactions on Automatic Control and from 2007 to 2010 the Editorial Board of Automatica.
He has been member of the International Program Committees of several international conferences including six editions of the IEEE Conference on Decision and Control.
He has been involved in several projects funded by state agencies and has coordinated industrial research projects funded by Foxboro, Magneti Marelli, STMicroelectronics, Numonyx, Pharmacia, Nerviano Medical Sciences, and GlaxoSmithKline.
He is Team Leader of the Pavia Unit in the European Union JU ENIAC Project "IMPROVE" (Implementing Manufacturing science solutions to increase equiPment pROductiVity and fab pErformance).
He is coinventor of 4 international patents on methods for the analysys of pharmacokinetic/pharmacodynamic data and for the artificial pancreas.
Blog: Univeritas - Università e ricerca: fatti e numeri
email:




Phone: ++39 (0)382 985484
Fax: ++39 (0)382 985373 (Departm.of Computer Engineering and Systems Science)

Teaching:
Identificazione di modelli e analisi dei dati (Ing. Informatica)
Identificazione di modelli e analisi dei dati (Ing. Informatica, Laurea Specialistica)
Introduzione all'analisi dei sistemi(Ing. Informatica)

teaching section for students