Giacomo Galuppini
Short Biography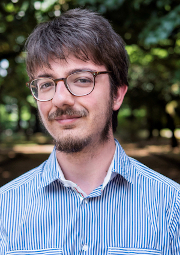 Giacomo Galuppini received the Ph.D. in Electronics, Computer Science and Electrical Engineering from the University of Pavia, Italy, in February 2020.


From May 2019 to August 2020 he was Research Fellow at the Department of Civil Engineering and Architecture, University of Pavia, Italy. From August 2020 to February 2022 he was a Postdoctoral Associate in Prof. Braatz's Group, Department of Chemical Engineering, Massachusetts Institute of Technology, Cambridge, Massachusetts, US. He is currently Assistant Professor at the Department of Electrical, Computer and Biomedical Engineering, Faculty of Engineering, University of Pavia, Italy.


His main research interests include Model Predictive Control, optimisation and control of Water Distribution Networks and Urban Drainage Systems, modelling and control of Li-ion batteries, control of magnetic field in Fast Field Cycling Nuclear Magnetic Resonance and Magnetic Resonance Imaging.